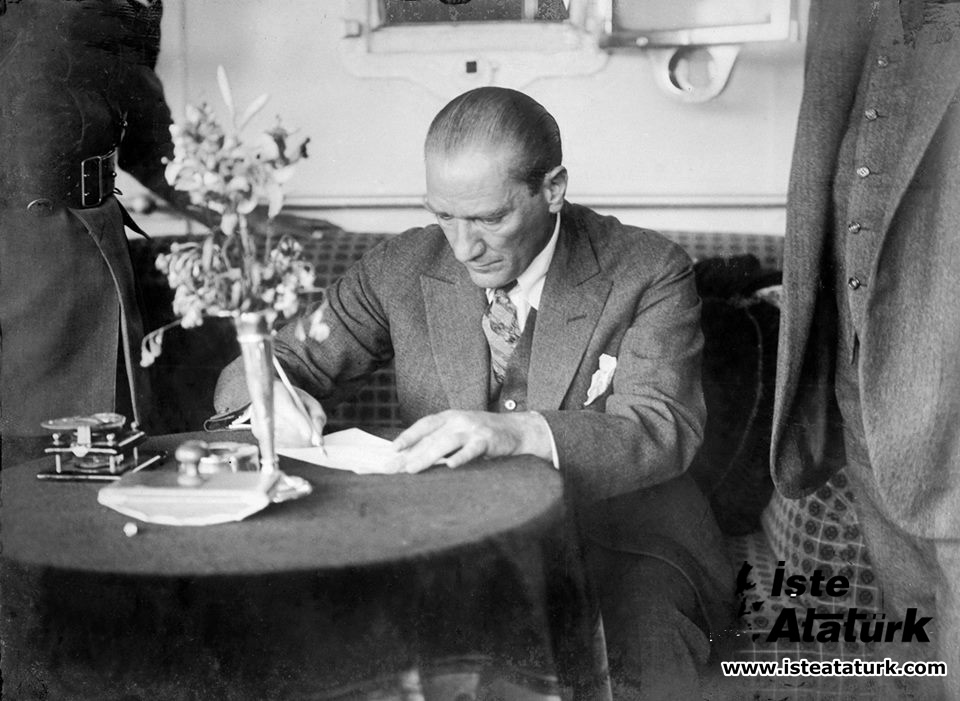 "Colonialism and imperialism will disappear on earth and will be replaced by a new age of harmony and cooperation between nations that does not discriminate against any color, religion or race". Mustafa Kemal Atatürk
ATATÜRK'S PEACEFUL POLICY
"Peace", one of the main goals of Atatürk's foreign policy, was one of Atatürk's main policies. Mustafa Kemal, who ran from front to front in the period of 1911-1912 and had to fight non-stop, always lived with the longing for peace, and did his best to protect Turkey after establishing a peace that secured Turkey's sovereignty within the national borders.
It is important not only to seize some things, but also to how much we can protect the seized things, how much we can keep them alive. Him in February 1923; "War must be necessary and vital. We see him say, "War is murder unless the life of the nation is in danger." As a matter of fact, it is he who wanted Turkey to join the 1928 Briand Kellogs Treaty, which banned war, and the Moscow protocol, which immediately put this Treaty into effect in Eastern Europe the following year.
Atatürk, who gave advice to diplomats after an official invitation while Numan Menemencioğlu was the Minister of Foreign Affairs, stated that "Diplomats are the staff of peace" and emphasized both the peace and the importance of the diplomacy way to ensure it.
Atatürk, longing for peace and establishing interest and relations between states, was not content with the Lausanne Peace Treaty, but demanded a series of treaties in order for Turkey to maintain friendly relations with all states, especially with neighbors. During the 1925 - 1930 period, the most important of these were the 1921 Friendship Treaty with the Soviet Union, and the 1929 Non-Aggression Pact; A Friendship Treaty with Bulgaria in 1925, a good neighborly agreement with France on Turkey-Syria relations the following year, which would be followed by a Turkey-France Friendship Treaty in 1930. Later there was a Neutrality Treaty with Italy and, in 1930, a Friendship Treaty with Greece. Thus, the circle of friendship around Turkey was completed.
Atatürk said in a statement he announced on April 20, 1931, as the leader of the Republican People's Party, before the parliamentary elections: We are working for Peace at Home, Peace in the World. Atatürk's principle of "Peace at Home, Peace in the World" is an expression of the value he places on peace. Atatürk's main aim was to preserve peace both inside and outside.
This understanding did not mean "peace at all costs". As seen during the War of Independence, Atatürk revealed that he would only consent to peace when Turkey's basic goals were achieved, that is, when its rights were accepted.
Atatürk was in favor of establishing real peace in the world. That is, he was conscious of the fact that he could not achieve real peace without dwelling on the causes of wars and eliminating them.
Atatürk's saying was not just a wish. To say "We are working for peace" meant "We will take the necessary security measures to maintain it". In other words, His pacifism was not a passive, inert, silent attitude. One had to be vigilant and cautious in the face of dangers. Realism required this. In short, for Atatürk, peace and security were inseparable concepts.
Now, as the clouds started to get dark in 1933, we can refer to Atatürk's stance for the security of Turkey and the region it is in. The world, especially the industrial countries of the West, is in an economic depression in 1929-34. Japan, a member of the League of Nations, attacked China in Manchuria in September 1931. The credibility of the League of Nations, which did not take any action against it, was shaken. Mussolini's Italy pursues imperialist ambitions. First, it is preparing to seize Abyssinia. Hitler, who was brought to the post of chancellor in Germany at the beginning of 1933, would also assume the presidency upon the death of Hinderburg in August 1934 and become the Führer of Germany. He is about to break the ties of the Versailles Peace Treaty. The United States of America, on the other hand, has not been involved in world affairs since 1921, except for disarmament issues.
In this case, it is the responsibility of England and France to ensure respect for the Treaty of Versailles and its complementary Lorcarno Treaty of 1925 and the 928 Briand / Kellegg Pact, and thus to maintain the collective security system of the League of Nations. However, public opinion in both countries is against preparations for a new war.
Atatürk believed that it was necessary to take responsibilities for world peace and to participate in collective measures that ensure peace. For example, he says one day in 1937; "Wherever a call came from the path of peace, Turkey cordially welcomed it and did not spare its help." In another speech in the same year, he said: "Working for the happiness of the nations of the world means working for your own well-being and happiness in another way. Mankind must be regarded as a body and a nation as a limb of it. In a body, all other limbs also suffer from pain at the tip of the finger. If there is a disturbance in this part of the world, we should not say what. We have to take care of him."
As a matter of fact, after Italy's attack on Abyssinia in October 1935, Turkey participated in all economic sanctions against Italy within the framework of the Nation League, as well as the measures taken at the Nyon Conference against Italian pirate submarines in the Mediterranean during the Spanish Civil War the following year. did not hesitate to participate.
As soon as the Montreux contract was signed, Atatürk handled the Hatay issue as Turkey's second biggest case and passed away after bringing this difficult case to its final stage peacefully.
Hatay region was within the borders of Misak-ı Milli. Although it was not possible to connect Hatay to Turkey with the 1921 Turkish-French Ankara Agreement, it was ensured that a special administrative regime was established for the benefit of the Turks who were the majority there, the culture of the Turks was developed and the Turkish language had an official character.
Atatürk had no prejudices in foreign policy. He had done what the interests of peaceful Turkey were in the changing international situation. As a matter of fact, he remained in solidarity with the Soviet Union during the period of 1421-1935, after 1936, he achieved a rapprochement with England and balanced the Soviet influence in Turkish foreign policy. If he had lived, in our opinion, he would not have hesitated to send troops to Korea in 1950, within the framework of the United Nations, for the sake of collective security, as well as joining NATO against the Soviet Union, which threatened Turkey, right after the war.
During Atatürk's time, some of the representatives of foreign states in Turkey wrote their memoirs. The first representative of the French, Alb. Jeanmovingin, first Ambassador Sarrault, later Chambrun, first American Ambassador Grew, later Sherril. However, there are no analyzes in his works.
In 1981, on the 100th anniversary of Atatürk's birth, new books and articles on Atatürk were published abroad as well as in Turkey. Among these, Atatürk's special issue of the magazine "Turcia" of the Association for the Development of Turkish Studies in France is particularly worth mentioning.
However, adequate analyzes have not yet been made in the west. In particular, Atatürk's thoughts on international relations, peace and security and the path he followed could not be understood properly. There is no doubt that the value of the principles that he wishes to be dominant in the relations between states will be learned as the studies based on the archive documents are made. For example, Atatürk's words to the American Baker in June 1935 regarding the rich north-poor south dialogue, which could only be brought to the agenda in the 1970s within the framework of the United Nations, are exemplary: "If permanent peace is desired, international measures must be taken to improve the situation of the peoples. The well-being of all humanity must replace hunger and oppression."
Atatürk paid great attention to foreign statesmen's visits to Turkey. Presidents such as Afghan King Emrullah Khan in May 1928, Iraqi King Faisal in July 1931, Jordanian King Abdullah in June 1937, and Romanian King Karol in June 1938, as well as Greek Prime Minister Venizelos came to Turkey to hold talks or to get to know Atatürk. Their positive impressions and the news in the press have increased Turkey's image as always.
In 1933, he would say: "Colonialism and imperialism will disappear on earth and will be replaced by a new age of harmony and cooperation between nations that does not discriminate against any color, religion or race".
Let us point out right away that he did not resort to any propaganda to spread these thoughts. The effect was spontaneous. We see this in his example, above all, in giving hope for independence and freedom to nations oppressed by western imperialism and colonialism. The extent of the impact in the wide Islamic world stretching from Morocco to Indonesia and in many African countries was not understood before. But as these countries gained their independence, they had the opportunity to express their feelings, and they expressed their admiration for Atatürk, which they had previously hidden out of fear of the foreign administration.
Atatürk says "Countries are diverse, but civilization is one" and; He said that "Civilization is a fire, that it will burn and destroy those who remain unfamiliar to it". What he understood by this was modern civilization. He also believed that cultures would be preserved within this civilization.
While it is often said as if wishing that Turkey will never be fully westernized in our western countries, there are also claims in eastern countries that Turkey is moving away from Islam. These are due to not understanding Kemalism well.
Our brothers at birth should not worry. Turks adhere to the religion of Islam. There are cultural ties between the Turks and them, dating back a thousand years. However, it is obvious that the social life in the modern world must be regulated according to the requirements of contemporary conditions. Turkey does not show the social order put forward by Atatürk as a model or example to anyone, nor does it make propaganda, but it believes in it. He also believes that this order is the only way to end the Islamic-Christian war that has been going on for a thousand years since the Crusades and to reach mutual understanding and cooperation between the east and the west, and Turkey has built a bridge on this road.
Atatürk had a personality that preferred peace to war in achieving foreign policy goals and other important goals. He was a highly qualified soldier who knew the meaning of war closely and therefore worked with the belief in the careful preservation of peace. We should adopt the compass that this Great Leader used in finding the way he showed us as our principle.
Elif Aydin
Source: ATATÜRK ARAŞTIRMA MERKEZİ DERGİSİ, Sayı 44, Cilt: XV, Temmuz 1999
Share this post